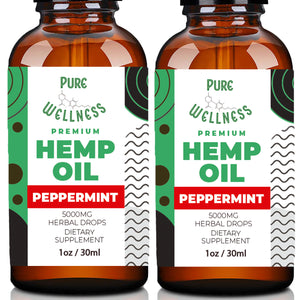 Hemp Seed Oil 5,000MG (2-Pack)
Regular price $17.95 $14.95 Sale
2-Pack - Powerful Fast Relief –  Omega 3-6-9 Oils, Vitamins & Fatty Acids
THE HISTORY OF HEMP OIL
Hemp oil is a natural remedy that has been used throughout human history for a variety of ailments and is also a wonderful moisturizer and conditioner for skin and hair. Apply a small amount to dry hands, feet, face or any other area needing moisture. You'll be amazed at the results.
 Hemp oil is also wonderful to smooth frizzy hair and keep your hair moist and conditioned during your blowout.
 OUR PREMIUM ORGANIC HEMP OIL
Our hemp oil is premium COLD-PRESSED extra-virgin seed oil that is unrefined and full of many beneficial goodies: omega 3, 6 and 9, vitamins A, B1, B2, B3, B6, B9, B12, C, D and E, iron, calcium, copper, iodine, magnesium, manganese, phosphorus, potassium, zinc, chlorophyll and fiber.
Hemp oil is a fantastic conditioner for hair and skin too. Put a couple of drops on your hands and you will be amazed at just how silky and fatty this oil really is. 
Our high quality hemp oil is NOT PROCESSED meaning it has a characteristic green color and a very slight hempy scent and flavor. If you prefer you can purchase the Peppermint flavor which is preferred by some people over the natural. 
INGREDIENTS

Original/Natural: Organic hemp seed oil
Peppermint Flavor: Hemp seed oil, Peppermint Essential Oil