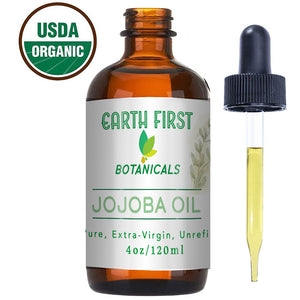 USDA Organic Jojoba Oil
NOT ALL JOJOBA IS CREATED EQUAL

Experience the highest quality, organic daily moisturizer for your face and body with our pure, USDA organic jojoba oil grown and manufactured in America.
Pure Jojoba Oil is unique in a specific way. It is Non-Comedogenic, which means you can use it on your face without the risk of clogged pores. Organic Jojoba Oil is the oil most similar to our face's natural sebum making it world-renowned for cleansing and moisturizing.

Jojoba is a beneficial ingredient found in many cosmetics, but most cosmetics use jojoba as a minor ingredient and add other laboratory chemicals to add feel without real value. Pure jojoba is a superior way to add moisture to face, skin and hair without the other ingredients and preservatives. Jojoba is a plant wax that is liquid at room temperature. Extracted from the seeds of the Jojoba plant found in the American southwest including California and Arizona, jojoba is similar to sebum, the natural oil produced by skin and hair. It is light, non-sticky and has a long shelf. Perfect for hair and beard moisturizing also.